Register
2021/2022 PDA- Box Lacrosse Experience at The Peddie School Lacrosse · Male
MonTueWedThuFriSatSun
Camper Fees

Regular

$250.00

+ 4.5% Processing Fee
BBL Player Development Academy Presents Box Experience
Box lacrosse is the best complement to field lacrosse that anyone can expose themselves to. The combination of skill, toughness and quick decision-making needed to play box at a high level translates directly to all areas of the field game. Led by certified box lacrosse coaches, these box clinics will teach the players the correct way to play box lacrosse from the ground up. Incorporating concepts like two-man games, off-ball cuts, and physicality, this upbeat and fast style of play is sure to make players faster on their feet and make quick decisions.

"If I had my choice, I would have every player under the age of 12 play box lacrosse exclusively or at least a majority of the time. The number of touches of the ball and the ability to develop better stick skills in a game of box lacrosse far surpasses what happens on a field."
BILL TIERNEY
7x NCAA CHAMPION
HEAD COACH, UNIVERSITY of DENVER

Benefits of Box Lacrosse: CLICK HERE

Dates: December 15th, 22nd, January 5th, 12th, 19th, 26th

Who: Open to players from any club, HS, or town in Grades 5/6, 7/8, and High School

Drop-in Rate: $75 per session Email kerrycweigner@teamturnpike.com for drop-in codes

Times: 5/6 and 7/8 6:30pm to 8:00pm High School 8:00pm to 9:30pm

Each session will focus on: Box stick work, shooting, defense, two-man game, spacing, and live GAMEPLAY!

Location: Peddie School- The Von Schwerdtner Family Indoor Athletic Facility (Box Rink)

Directions: CLICK HERE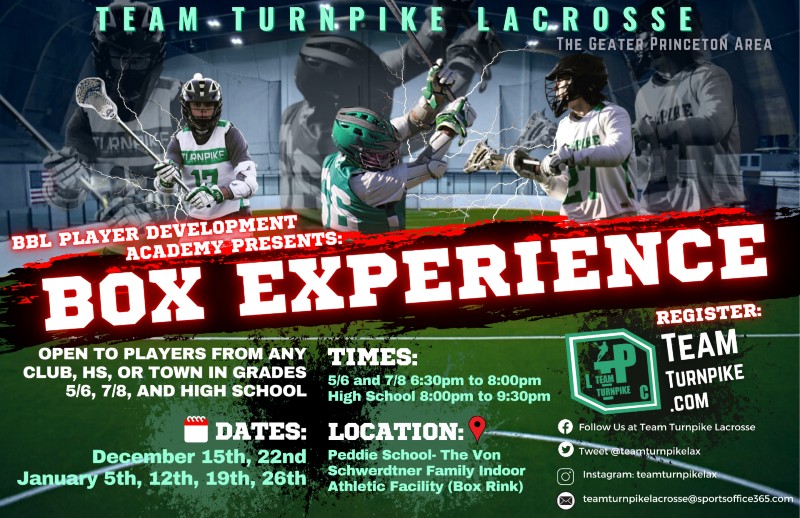 Camp Notes:
Now accepting registrations!